CHAMPIONS LEAGUE TALK
I day to go now before we play at our UEFA Champions League home, our second home, Wembley.
The table below shows the prize money for the three-year cycle 2015-2018. Whilst it isn't a concern when we play, the more points we get in the group stages the more revenue we generate. The prize money for a draw remains the same but you now get an extra £840,000 if you win.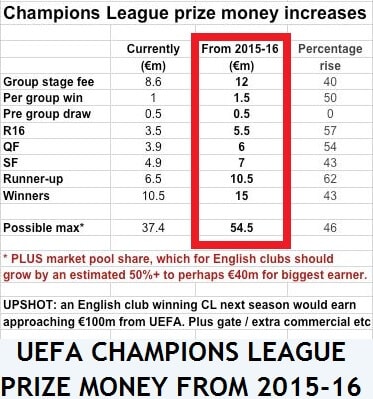 The following is an extract taken from the official
UEFA website
HOW THE MONEY IS SHARED OUT
FOR TEAMS IN THE UEFA CHAMPIONS LEAGUE
Forecast revenues
The net amount available to participating clubs will be split on a 60:40 basis between fixed amounts and variable amounts (market pool).
Based on the net amount of €1.2689bn, the fixed amounts will be €761.9m (group stage allocations, performance and qualification bonuses) and the variable amounts €507m (market pool).
Fixed amounts (€761.9m)
Basil allocation for each clug in group stage: €12.7m.
Performance bonus per group win: €1.5m
Performance bonus per group draw: €500,000 per draw.
Non-distributed amounts (€500,000 per draw) will be pooled and redistributed among the clubs playing in the group stage in amounts proportionate to their number of wins.
Round of 16 appearance: €6m
Quarter-final appearance: €6.5m
Semi-finalist appearance €7.5m
The UEFA Champions League winners can expect to receive €15.5m and the runners-up €11m, inclusive of their share of ticket revenue from the final (no additional amount will be paid to the finalists in relation to ticketing as was customary in the past).
A club could therefore receive, at best, €57.2m, not including their play-off allocations or market pool share
---