TRANSFER TALK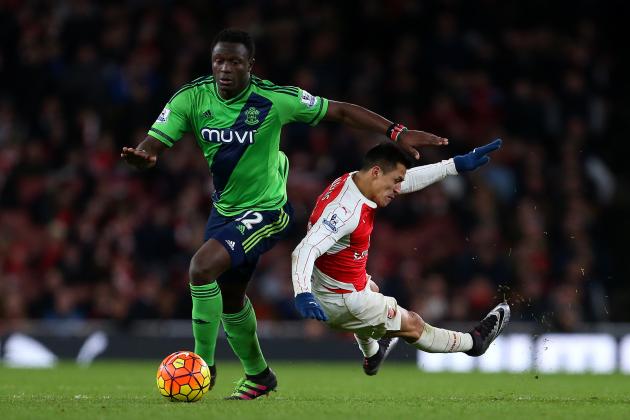 Pouring through the comments of articles in my mail account as I do, a subject leapt out that I thought I'd take a look at Victor Wanyama's disciplinary record
I have stated before, and I'll state again, that Victor Wanyama was known to have wanted to join Spurs last summer and Southampton refused to let him. His mind wasn't therefore right in August, which means, in reality, he didn't want to play for them and the Saints fans were critical of his attitude all season and his apparent refusal to want to play in the UEFA Europa League.
If a player doesn't want to be at a club and is forced to stay against his will, he will either knuckle down and do as Luka Modric did in giving us an extra year, or the extra year that Bale gave us or they will sulk like Saido Berahino has done at WBA and refuse to show anything like his capabilities.
For me, listening to Southampton fans and reading Saints forums, I get the distinct impression that here was a guy going through the motions. I found it very interesting that his sending's off were all for the same tackle in the same area of the field, the impression left was that they were deliberate. I'm not making a call on that one one way or another, just reporting the general feeling I got.
If you accept that he was going through the motions with reluctance then you can understand totally inconsistent performances. Football is a mental game and if you are not motivated and committed to what you are doing then you haven't a chance of producing your best. Both Lamela and Dembele have improved significantly by having their heads sorted out and Rose now has the confidence at left-back that he didn't have before.
Instead of looking at Wanyama last season, a look further back when he was motivated might be a bit more illuminating. In 2014/15 he received 10 yellow cards in 32 Premier League games and no red cards, the same as Eric Dier. Both of course play in the same position and both have to commit fouls and receive bookings, it is part and parcel of the job. He picked up a further 2 yellow in 7 Cup games.
In 2013/14 he picked up 7 yellow cards in 23 Premier League games with no red cards and none in 1 Cup game. In 2012/13 he was in Scotland.
So until last season he had no been sent off for Southampton, which suggests to me that there isn't an issue with his discipline at all. That discipline will magically return when he is motivated and motivated he is sure to be.
---