TRANSFER TALK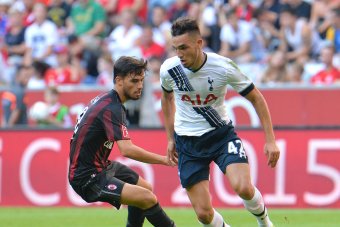 It seems highly unlikely that Nabil Bentaleb or Ryan Mason were offered to Southampton for Victor Wanyama, for a start Tottenham will no doubt value Bentaleb above £11-million, the previous summer he was being talked about as a £30-million interest for manchester City.
A year of injury and subsequent loss of form will not have shrunk his valuation by that much, even if you feel last summer's figure was optimistic. Anyone who knows anything about Tottenham knows we pout high valuations on players. We were asking for £10-million for Aaron Lennon with a year left on his contract.
Nabil Bentaleb has his footballing future ahead of him, all he needs to do is keep his head focussed on football, not wages or anger. He does seem an emotional lad, channel it into football and his talent will come back to the surface. He can be a very good premier League player and it doesn't seem likely that we will be letting the 21-year-old (22 in November) go, even with the signing of Victor Wanyama.
He fits the profile of the type of player we are looking to buy so selling him wouldn't make any sense. Our objective is to increase the value of players and sell on those we don't want, not reduce them in value and sell them on. Logically, he isn't going anywhere.
Equally Ryan Mason I am sure is all paper talk. Yes, our fringe players have all received offers from many clubs, but equally, nobody is leaving that Pochettino wants, he is receiving that backing from the board. Every club, even title winners, have to have their foot soldiers. They have to have players who are underestimated by fans or disliked by fans, who in these circumstances tend to only look at the last few performances and not an overall picture.
At the beginning of the season, he was a starter in the team until he got injured scoring the winner at Sunderland and the keeper came crashing into him. That should tell everyone that Pochettino likes him. All the noises from Mason are that he is staying, he is talking about fighting for his starting place, not looking for easier pastures anew.
In football, you never know what will happen. Mason could well be playing Champions League football. We could get drawn against a team from a weak nation, we could have injuries. So for him, there is little reason to leave at the moment, next summer it may be different, right now I don't think he is going anywhere.
There are no reports that either player was offered in part exchange, just one Mirror journalist guessing that they were. Yes, this is a guessing article too, but it is a logical guess rather than the emotionally driven fan based guess.
Journalists invent stories all the time and put suggestions forward that fans read as facts. Take the Mason wants to leave for more game time. That is where the mason stories started. All they are doing is jumping on and feeding those emotional fans who love to proclaim a player as useless. They can then link him to multiple clubs and throw him into transfer stories whether his name has been involved with them or not.
I don't believe for a minute either were offered, simply because we are keeping all the players Pochettino wants and there is no evidence that he doesn't want either of them, plus our valuation of Bentaleb is probably higher than what we have paid for Wanyama, whether you agree with that or not.
---